"Phishing" is an IT term for a cybercrime in which people try to fool other people into sending them money or revealing personal information online. The name comes from the idea of fishing: Scammers send a message that acts as bait, hoping to "hook" someone.
The good news is that you have the power to throw these phish back! Let's take a minute to talk about what you can do to avoid phishing. 
First, be cautious. Remember the old warning about not talking to strangers? It goes double on the internet, since anyone can pretend to be anyone else and an email from an exciting new friend could actually be a trick.
Second, remember not to share sensitive information through emails. No legitimate organization would ask for personal details, such as your passwords, credit card numbers, and Social Security Number in an email.
Anatomy of a phish: Common red flags
Some key indicators of a phishing scheme or scam include:
Time stamp
It's outside of work hours or late at night
Other recipients
You are among a group of people you don't know
Sender
The sender isn't someone you know
The sender is outside of your organization
The sender's email address impersonates someone you know
The email address contains a suspicious domain or spelling errors
Greeting
It's generic, unusual, or missing
Subject
It's a reply to an email you did not send
It does not match the message's content
It contains spelling, punctuation, or grammar errors
The message
It's unexpected
It creates a sense of urgency (e.g., "Respond ASAP!")
It asks you to do something in order to avoid a negative consequence or to gain something of value
It requests personal information
It asks you to update or verify an account
It contains repeated spelling, punctuation, or grammar errors
It gives you an uncomfortable gut feeling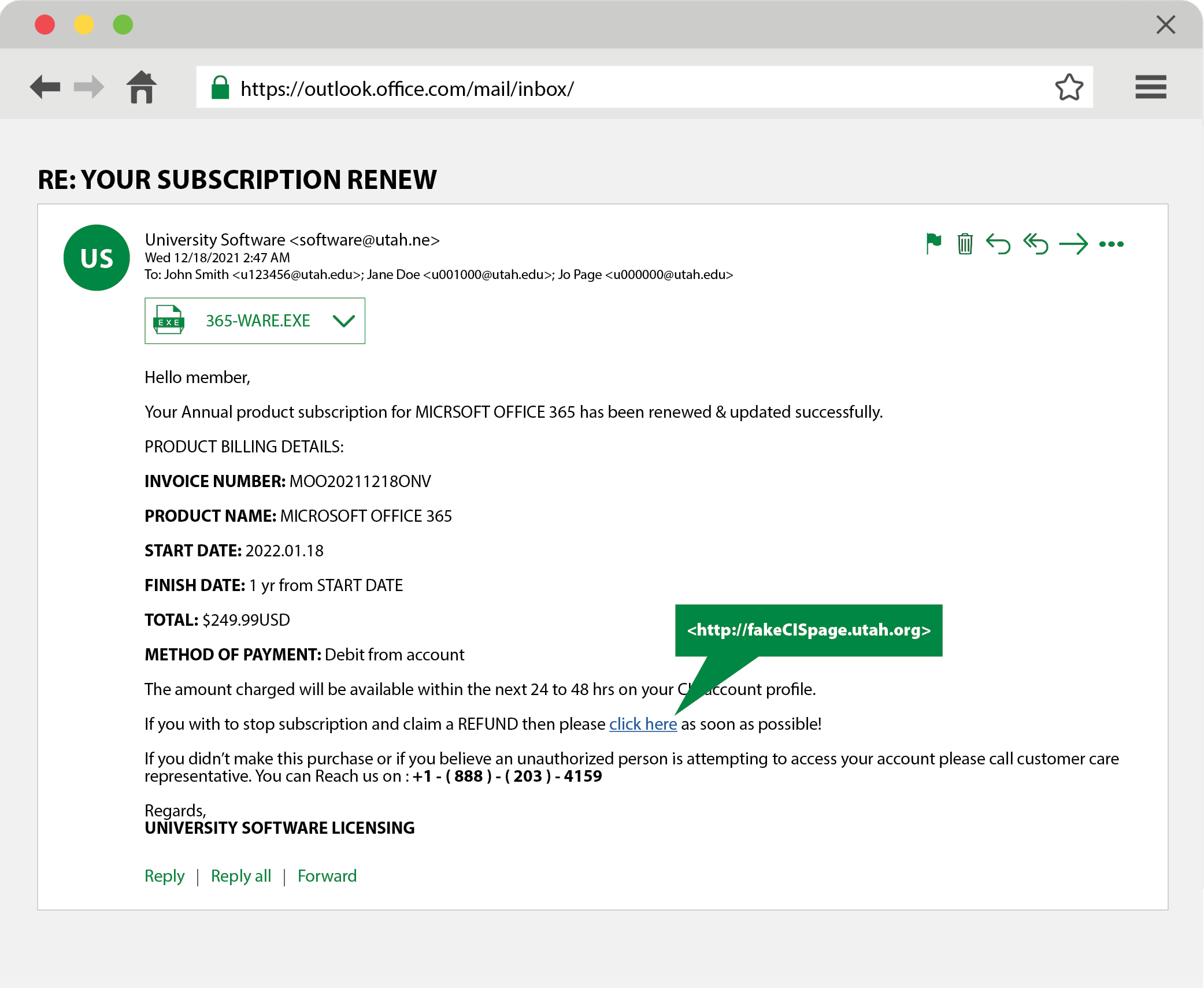 Attachment(s)
You weren't expecting an attachment
It's a potentially dangerous file type
Hyperlink(s)
It includes misspellings
It's displayed with no additional information
It's been shortened
It indicates a different website when you hover over the text
Signature
It's generic, unusual, or missing
Below are some common tactics that criminals use when phishing University of Utah students, faculty, and staff, and University of Utah Health personnel. These examples are intended to help every U of U user learn how to spot a phish. Use the links to access an overview and example of each tactic (login required). For a list of recent phishing attempts, please visit the Phishing page (login required).
Report a phish
If you receive a phishing attempt through a university email account, the Information Security Office (ISO) asks that you immediately report it using the Phish Alert Button.
Open or select the suspicious message, then select the Phish Alert Button to send it to the ISO for review.
If your email client does not have the Phish Alert Button, forward the email as an attachment to phish@utah.edu.
For more info on how to report suspicious emails, please visit this IT Knowledge Base article.
After reviewing the suspicious email, the ISO will notify you whether it is a phishing attack. If the message is malicious, the ISO will remove it from your inbox and act as needed to protect users and the university.
If, by accident, you open a questionable link and enter login credentials, immediately go to CIS — https://cis.utah.edu/ — and change your password. In addition, contact the ISO's Security Operations Center at soc@utah.edu to notify information security staff.
If you need additional assistance, please contact your central IT help desk:
Main Campus UIT Help Desk: 801-581-4000
University of Utah Health ITS Service Desk: 801-587-6000

Report a scam
To make a police report regarding a scam, call the University of Utah Police at 801-585-2677 and ask to speak with an officer. This request will create a call log, which will show the date, time, and nature of your complaint. After speaking with an officer, you will receive instructions on next steps.
Social engineering
Social engineering is the practice of trying to trick or manipulate people into breaking normal security procedures. In general, the principle behind social engineering, phishing, and scams is that people are the weak link in security — it can be easier to trick people than to hack into computing systems by force.
Social engineers exploit people's natural tendencies to trust and help others. They also take advantage of our tendency to act quickly when faced with a crisis. Phishing is a form of social engineering.
Other types of phishing
Phishing can extend beyond scams sent via email. Criminals also use phishing tactics and social engineering in text messages (smishing) and phone calls (vishing).
Vishing (voice phishing)
In voice phishing, the phisher calls someone and asks them to provide sensitive personal details or dial a number, according to KnowBe4. The purpose is to steal personal or bank account information through the phone. Vishing is mostly done with a fake caller ID.
Smishing (SMS phishing)
Smishing is phishing conducted via short message service (SMS), a telephone-based text messaging service, according to KnowBe4. A smishing text, for example, attempts to entice a victim into revealing personal information via a link that leads to a phishing website.
Resources